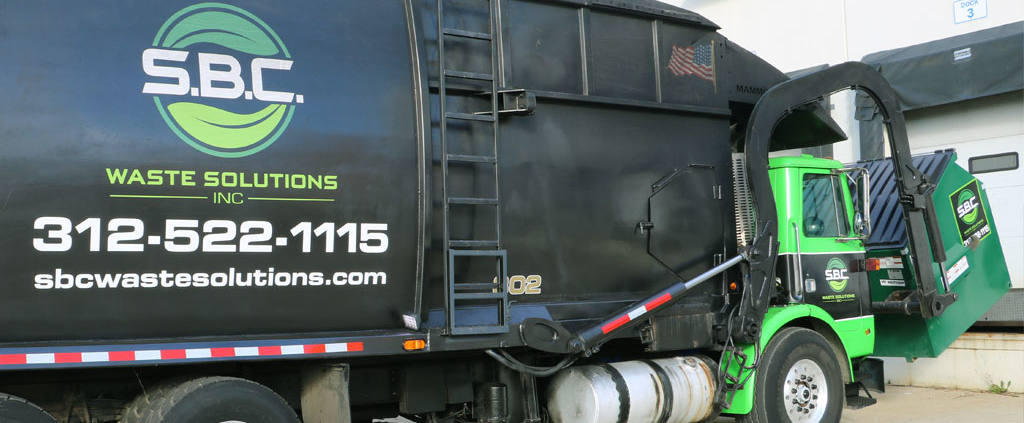 Dumpster containers come in a variety of types and sizes to accommodate many different kinds of projects. Container types include front-load containers, rear-load containers, and roll-off dumpsters. The variety you choose will depend on what your specific needs are. Here are some tips to help you choose the right type and size of container.
When to Use Front-Load Containers
Front-load containers can be used for both commercial and residential purposes. This type of dumpster is useful when you know you will be producing too much waste to fit in a curbside trash can, but not enough waste to fill a large roll-off dumpster. Front-load containers are most commonly used by small businesses. We can service front-load containers on a weekly, daily, or monthly basis. Front-load containers differ from rear-load containers in that they have a top that inclines upward. This allows you to drop trash in over the lid. The design makes them ideal for restaurants, retail stores, and apartment complexes. These kinds of containers have a sealed base and a tight-fitting lid, so they are great for storing food waste and will keep out rain and animals.
The smallest size is 2 cubic yards. This size can fit around 24 kitchen-size trash bags and is ideal for boutiques, coffee shops, small office buildings, and other properties that produce a minimal volume of waste. A 4-yard container fits twice as much. This size works well for rental properties with less than 8 units, convenience stores, entertainment venues, and large restaurants. 6-yard containers are perfect for hotels, strip malls, large office complexes, and schools. 8-yard front-loads are ideal for shipping centers, manufacturing facilities, universities, large hotels, malls, and grocery stores. These types of properties typically produce a lot of refuse. The largest container size is the 10-yard. These ones are excellent for construction sites and projects and businesses that discard heavy objects, such as concrete or brick. The larger containers are also useful for clean-outs because they can fit heavy items, including appliances and furniture.
When to Use Rear-Load Containers
Rear-load containers have a slanted back, instead of a slanted top. This makes them a better option for narrow spaces like alleyways. While they are narrower, they are usually taller and longer than front-load containers. The design makes them perfect for use in urban areas. The shape of your property may determine what option is better for you. Rear load containers are best for medium to large businesses but can also be used for smaller properties.
The smallest sizes are 1-yard and 1.5 containers. These are made for very small businesses that do not produce a significant amount of daily waste. The 2-inch container can accommodate slightly larger businesses, such as a café or small clothing store. The 4-inch rear-loader works well if you produce more waste, making it perfect for diners, small healthcare facilities. The 6-inch container accommodates medium-to-large businesses, such as hotels, shopping centers, and apartment buildings. Some organizations, including schools, hotels, and large office complexes, produce a lot of waste each week. The 8-inch container works perfectly for these institutions. The 10-inch container is the largest size and is ideal for small construction projects or very large businesses.
When to Use Roll-Off Containers
The main difference between roll-off containers and other dumpsters is that roll-offs are larger. They range in size from 10-yards to 30-yards. They work best for construction projects and cleanouts. Roll-offs also have an open top. While rear-load containers and front-load containers are typically for regular use, roll-offs are often rented for one-time usage, such as if you're moving and need to throw away a lot of furniture.
The 10-inch roll-off is great for more compact spaces, such as in a driveway. You can use them to throw away a variety of materials such as wood, metal, sheetrock, and small furniture. The 15-inch can accommodate a larger area, making them ideal for apartment and office buildings. The 20-inch roll-off works better for larger office complexes and construction sites. The largest size is the 30-inch roll-off container, which is necessary for large-scale construction projects.
Dumpsters come in a range of varieties and sizes. Picking the one that is right for you depends predominantly on the size of your business or the scope of your project. Think about how much waste your business produces in a day and what type of waste you will be throwing away. Are the items bulky or heavy? The above tips should enable you to find the size that works best for your needs.
https://www.sbcwastesolutions.com/wp-content/uploads/2020/09/ghjkgkhj.jpg
768
1024
sbcwastesolutions
http://www.sbcwastesolutions.com/wp-content/uploads/2020/07/sbc-logo.png
sbcwastesolutions
2019-12-11 14:29:31
2021-08-20 12:52:58
Tips for Choosing the Right Container Size