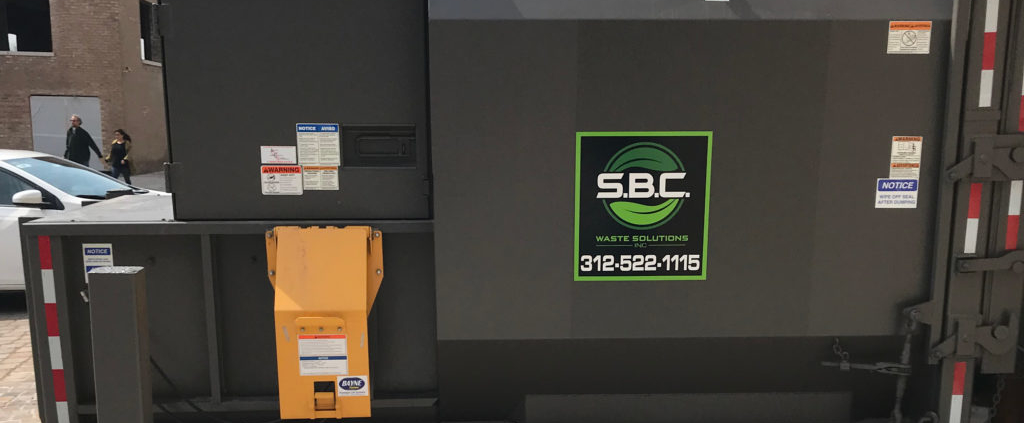 "This surcharge allows us to keep up with the cost of diesel, natural gas, and other fuels. These prices change constantly, so a surcharge helps offset this volatility. Fuel charges are very common in the transportation industry and are used by most waste haulers, trucking companies, and airline carriers. "
Fuel and Environmental Charge

SBC Waste Solutions is dedicated to providing customers with safe and dependable waste management at an affordable cost. SBC Waste Solutions has invested heavily in green technology, such as LNG or CNG trucks. We strive to consistently lower our overall impact on the environment. However, prices related to environmental compliance and fuel are not something that we can completely control. The standard to fuel/environment charge is designed to help our cover these costs and attain a reasonable operating margin. The fuel and environmental charge appears on customer invoices as a one line item that contains two distinct components: a fuel surcharge and an environmental charge.

Fuel Surcharge

The fuel surcharge lets SBC Waste Solutions recover the cost of diesel, natural gas, and any other
hydrocarbon-based fuels that we use to operate our company and perform our services, above a baseline cost. The baseline cost is measured in diesel cost at $.95 per gallon. This charge lets our company to keep up with the frequently changing price of diesel, natural gas, and other fuels. It also allows us attain the operating margin we need to keep up the high-quality service customers expect from us. Our standard fuel surcharge calculation stems directly from the national average price of diesel fuel, which the Energy Information Administration of the U.S. Department of Energy ("EIA/DOE") reports weekly in their Retail On-Highway Diesel Prices Index. This index is available to the public and highly reputable within the trucking and transportation industries as an objective source. Basing our standard fuel surcharge to this index makes sure customers are assessed a fuel surcharge that is correctly adjusted and easy to calculate.

The EIA/DOE average is published every Monday. We then use the data for our invoices for that week. The SBC Waste Collection Fuel Surcharge Table or the SBC Waste Disposal Fuel Surcharge Table details what the fuel surcharge as a percentage of a customer's monthly charge (or other incremental invoice charges) before taxes would be based on the most recently reported EIA/DOE national diesel price that came before the customer's invoice date.

The amount or percentage of the surcharge is not directly linked or indirectly linked to the cost to service a specific client's account. By contract or at the SBC Waste's discretion, some customers pay a nonstandard fuel surcharge and some customers are exempt from any fuel surcharge. SBC Waste Solutions uses the surcharges to try to recover the all company-wide costs for diesel, natural gas, and other hydrocarbon-based fuels and products used by SBC Waste Solutions above the $.95/gallon diesel cost baseline, only from those customers subject to a fuel surcharge, this this exclude anyone who is exempt from the surcharge, as well as non-paying customers.

Environmental Charge

The environmental charge is 16.0% of all invoice charges, including the fuel surcharge. However, it excludes the Regulatory Cost Recovery Charge and taxes. (Some customers are charged a flat rate per load or other rates, which are terms in their contract or service. For more details, contact the Technical Service Center.)

The environmental charge lets SBC Waste Solutions cover enterprise-wide costs and expenses for its operating companies, which include the operating costs for collection, transfer, landfill, and recycling. The charge allows us to perform these operations in a safe and an environmentally responsible fashion, while also allowing us to attain a reasonable operating margin. The amount or percentage of the charge is not specifically linked to the direct or indirect costs to service specific customer accounts. Either by contract or at the discretion of SBC Waste Solutions, some customers pay a nonstandard environmental charge and some are exempt from the environmental charge. Through the environmental charge, SBC Waste Solutions tries to recover all applicable company-wide environmentally relevant costs to its operations, but only from the customers who are subject to an environmental charge. This excludes those who are exempt, as well as non-paying customers.

https://www.sbcwastesolutions.com/wp-content/uploads/2020/09/stu-1024x870-1.jpg
870
1024
sbcwastesolutions
http://www.sbcwastesolutions.com/wp-content/uploads/2020/07/sbc-logo.png
sbcwastesolutions
2019-04-21 16:27:42
2021-08-21 01:02:58
Why do you charge a fuel surcharge?