LEARN ABOUT OUR TEAM AND CULTURE
S.B.C. Waste Solutions is a family and woman-owned company of industry experts with more than 100 years of experience, learn about our team and culture. As a diverse company we offer many opportunities for employment and internal growth in our company. We work hard to maintain a positive work environment for everyone to appreciate and excel. As we continue to grow exponentially this allows us to hire more staff and provide quality job opportunities for everyone. Our focus at SBC waste Solutions is to provide the best waste management solutions to Chicago and all surrounding areas. We are committed to being one of Chicago's top waste haulers in the city. As you learn about our team and culture, you will find that we have covered every aspect of the waste management industry but are always looking for great people to add to our team.
Karen Coley
CEO
Karen is the CEO of SBC Waste Solutions. She brings 35 years of delivering exceptional service to customers. As the majority owner of the company, her priority is to make sure the team delivers outstanding customer service. She's committed to running a conscientious business that puts the environment first. That is why she aims to continually look for new ways to reuse recyclables and to make the recycling process easier for her customers. Karen has earned WBENC certification with other businesses and is current in her application for SBC Waste Solutions. She is passionate about mentoring young women in business.
SBC Waste Solutions Inc.
Shawn Flood
Partner
Shawn is our VP of Operations and Customer Care as well as one of the partners of SBC Waste Solutions. He has built up a strong reputation in the waste management and recycling business over the past 15 years.
SBC Waste Solutions Inc.
Eric Francis
Sales Executive
Eric former Hawkeye grad brings a new wave of motivation, Enthusiasm and experience to our sales force. His personality is the core of the future of SBC growth.
SBC Waste Solutions Inc.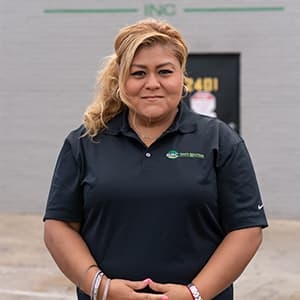 Sandra Barbosa
Director of Customer Service
Sandra is our experienced account executive collection department manager, serving in the waste and recycling industry for over 5 years. Her expertises are well sophisticated in assisting customers to their exact needs.
SBC Waste Solutions Inc.
Richard Baskall
Rolloff & Dispatch Manager
Richard is our Customer Relations Manager. He plays a critical role in guaranteeing a high level of customer service. He has a friendly demeanor and a wealth of knowledge about recycling and waste management, which is why our customers love to talk to him.
SBC Waste Solutions Inc.